Novinky z projektu Villas Břežany | Rodinné domy 7+kk z 3. etapy výstavby již brzy v nabídce!
19.03.2018
Prague Office Market – 2017
02.03.2018
In 2017 Q4 over 71,000 m2 of office space was completed in the capital. Office supply in Prague has been on an upward trajectory since the last quarter of 2016. The largest of new completions in Q4 was Main Point Pankrac situated in Prague 4 comprising ca. 22,000 m2 of office space. Prague saw around 135,000 m2 completed in 2017. The largest newly completed project in 2017 was Waltrovka Mechanica with 28,000 m2.
Office construction sector in the capital in Q4 recovered y-o-y registering more than 304,000 m2 of office space under construction. In the last quarter of 2017 construction work started for example on the new office project Churchill I. The building CSOB Bank II remained the largest scheme underway.
Demand registered in the capital city in 2017 Q4 increased when compared to the previous quarter as well in comparison to the last quarter of 2016, standing at 167,000 m2 and accounting for 35 % of all 2017 lettings. Significant lease deal closed in Q4 was prelease transaction in the Churchill I. building in Prague 3. In 2017 Q2 Moneta Money Bank took about 21,500 m2 in BB Centre A.
Prime rents in CBD increased a little q-o-q and ranged from 19.00 to 20.50 € /m2/ month in 2017 Q4. Inner City prime rent remained between 14.00– 16.00 € /m2/ month, in Outer City the range was between 13.00 – 15.00 €/m2/ month.
The vacancy rate continued to fall to 7.5 % in 2017 Q4 representing the lowest rate for 10 years.
Pour Féliciter 2018
17.12.2017
Thank you for your support in the past year and wish you a Merry Christmas and lots of happiness, joy and success in the new year.
We would like to inform you that during our Christmas holidays from 25th to 26th December 2017 our office is closed.

The whole team of Professionals are looking forward to you in 2018.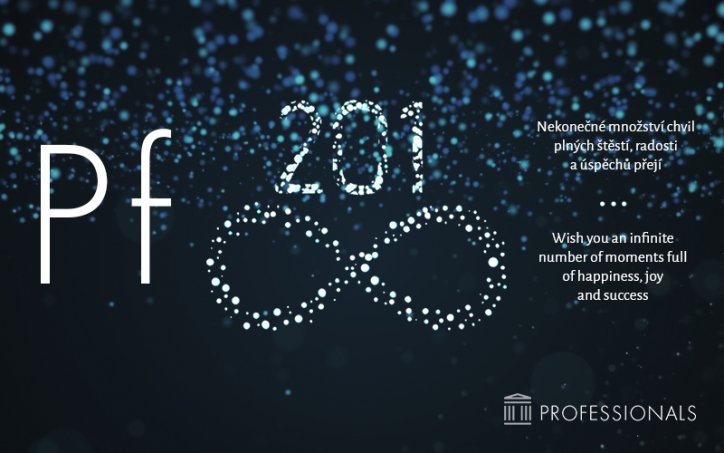 THE NEW PROFESSIONALS WEBSITE LAUNCHED
15.12.2017
Our web platform www.professionals.cz has undergone a fundamental transformation within the overall rebranding, corresponding to current trends.

Attractive, responsive design, a more structured layout, more space for visuals, use of video content and social networking - all on the new website of the PROFESSIONALS real estate agency.

We hope you will be interested and look forward to your feedback. We will be happy to answer any questions you may have.